Turning a Vision into Reality
"In the 21st century, the peaceful interaction between the world's cultures is of existential importance. Therefore, the ancient world equips us with an idea, which is future-oriented, especially during the phase of globalization: The Delphic Games of the Modern Era, as a large forum for the arts and cultures, similar international as the Olympic Games today, and even uniting the people in a deeper way."
J.C.B. Kirsch
Initiator and Founder of the International
Delphic Council / IDC
Transforming great ideas into a reality requires persistence and unwavering commitment and drive from leading individuals. Johann Cristian Bernhard Kirsch aspired to establish the Delphic Games as a forum that strives for peace and preserves arts and cultural heritage. With a strong determination and commitment to revive the games, he took up the challenge from the mid 80s.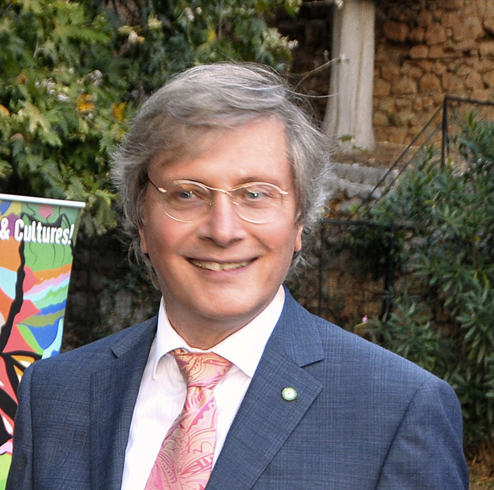 Born in Berlin in the year 1943, J.C.B. Kirsch earned his graduation in arts from the Higher Technical Education College, Steyr, Austria. His background includes military services, graphics, promotion advisor, and international finance and economic advisor. In the 70s, Kirsch started promoting artists and developed artistic education for the future generations. He also seriously considered a sustainable international competition for arts and his vision become a reality when Prof. Dr. Hellmut Flashar from the Ludwig Maximilian University Munich guided him about the ancient Delphic Games.
Kirsch travelled to Greece many times to meet leaders and strengthen his idea of reviving the Delphi Games. The response from all eminent personalities was encouraging and motivating and thus, Kirsch finally initiated and organised the Founding Assembly of the IDC in 1994 in Berlin. Now known as the Delphic Games of the Modern Era, the format reflects and honours Greek roots while promoting the Greek cultural heritage on a worldwide scale.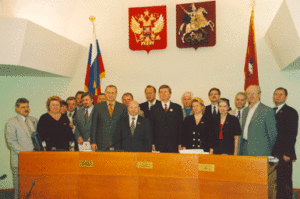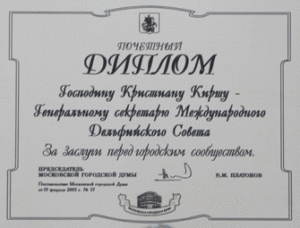 MAY 2003:The City Council of Moscow, Russia awards the Secretary General of the International Delphic Council J. Christian B. Kirsch with the Honourable Diploma for cultural achievements.
The document is signed by the Chairperson of the City Duma Vladimir M. PLATONOV (10. from right), since 2002 Delphic Ambassador.The deputy Mikhail MOSKVIN-TARKHANOV (6. from left) is supporting the IDC as Delphic Advisor.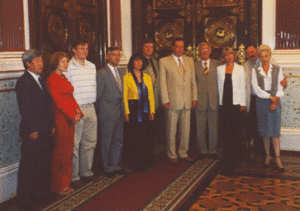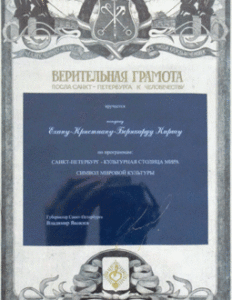 JUNE 2003:The Governor of St. Petersburg, Russia awarded the Secretary General of the International Delphic Council J. Christian B. Kirsch (6. from right) as Ambassador of Honour. Here during the reception at the Smolny together with Vadim A. TULPANOV, Chairperson of the St. Petersburg Legislative Assembly (Parliament) & Delphic Ambassador (5. from right) till July 2010 and the Deputy Alexander I. KUTSHAK, Delphic Advisor (2. from right) of the IDC.
J.C.B. Kirsch – Research studies in Delphi, 1989

Conversation with Tzannis Tzannetakis, Greek Minister of Culture, 1991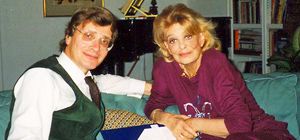 Meeting with Melina Mercouri, Greek Minister of Culture, 1993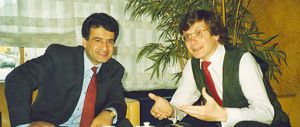 Meeting with Evangelos Arabatzis, Director ECCD, 1993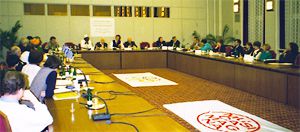 IDC-Founding Assembly 1994 in Berlin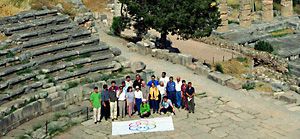 IDC Amphictyony Meeting 1999 in Delphi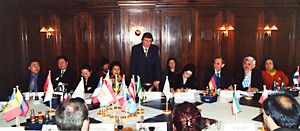 IV. Session (world congress) 2001 in Berlin