II. Junior Delphic Games 2003 (Düsseldorf / Germany) : August 27 – 31
Patrons
Mr. Jürgen BÜSSOW, District President, District Government of Düsseldorf
Dr. Walter SCHWIMMER, Secretary General of the Council of Europe
Hosts
Mrs. Monika ERHARDT-LAKOMY, President, Delphic Council of Germany International Delphic Council
Participants

Approx. 300 juniors (age from 10 – 25 years) and adults from 18 countries (Albania, Austria, Belarus, China, Czech Republic, Georgia, Ghana, Greece, Great Britain, Japan, Nigeria, Norway, Philippines, Poland, Russia, South Africa, USA, Venezuela). Representatives from various cultures relaxing with each other in between performances during the II Junior Delphic Games 2003 in Düsseldorf, Germany.
Art Categories and Disciplines

Acoustic Arts
Instrumental, Singing
PERFORMING ARTS
Dance (Traditional / Contemporary Dance), Circus
VISUAL ARTS
Painting, Graphics, Photography Conferences
DELPHIC DISCIPLINES & CRITERIA

Chairman: Mr. Bertram MÜLLER, Germany
MEDIA & MARKETING
Chairpersons: Mr. Norbert BURKHARDT, Germany, Mrs. Jill SUMPTION, South Africa.
DELPHIC ACADEMY

Chairpersons: Dr. Helmut SCHRAMKE, Austria, Mr. Mikhail MOSKVIN-TARKHANOV, Russia
Goodwill Messages

Mr. Joachim ERWIN, Mayor of Düsseldorf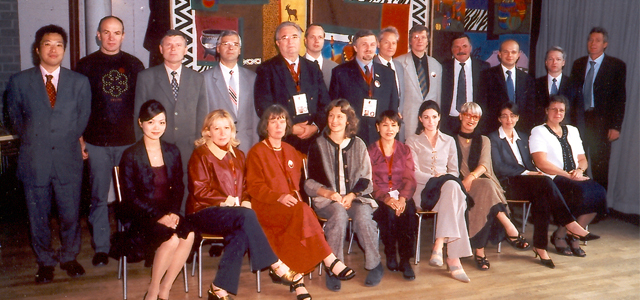 Venues

tanzhaus nrw / dance house North Rhine Westphalia, Düsseldorf Waldorfschule, Düsseldorf
Awards
All participants were awarded with certificates